The Nowshera region near the Kabul River was at risk of high-level floods as the water levels rose by 300,000 cusecs, the Khyber-Pakhtunkhwa (K-P) flood warning cell cautioned on Saturday.
The cell further warned that the Adezai Bridge at the Kabul River were also susceptible to severe flooding.
According to the latest reports received around 3 pm, water levels have not risen in the Kabul River and 315,282 cusecs of water easily flowed through into the Indus River.
The Information and Public Relations Cell District Administration Nowshera stated that the water level could decrease in the next two hours.
Meanwhile, water levels rose in the Jundi River giving way to potential high-level flooding on the highway.
The flood warning cell's announcement came shortly after the Pakistan Metrological Department (PMD) warned that the Indus River may reach high to very high flood levels at Kalabagh and Chashma.
According to the PMD, water levels may rise between 550,000 cusecs to 700,000 cusecs and the severe inundation will continue from August 27 to 28.
They advised all concerned authorities to remain alert and take "all necessary precautions" to avoid loss of life and property.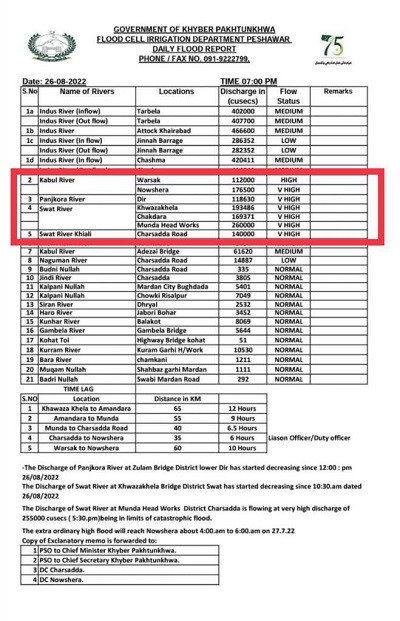 Due to the floods, thirty tourists, including women and children, were trapped in the Karamat Valley, a tourist destination in Lower Dir.
According to the relevant officials, the tourists can only be rescued via helicopter.